What about merging all differences? What about feeling the undivisible web connecting all beings, all things as one?
That afternoon, as the sun went down, she could feel for the first time in her whole life, something had changed forever. She didn't know exactly what it was, but she knew it was deep, pure and noble. Breathing in the energy of the sunset rays had never been so delightful. Listening to the whisper of leaves and grass through the sweetness of the wind reminded her she was not alone. Her breathing was also their breath- ing. Her heartbeats were also the pulsation of all existing life expressions. Whatever she touched became an extension of her own skin. She was the sky and the earth. She was matter and also emptiness, so etheric as the finest particle of kindness. Nothing was out of her, but at the same time the whole universe embraced her as one. She became love.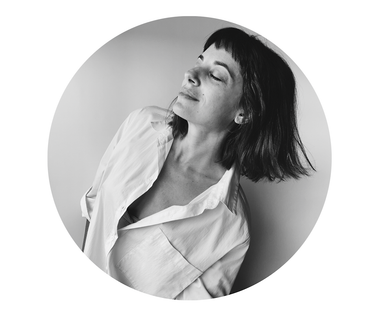 Julieta Laino was born in 1979 in the province of Buenos Aires, Argentina. Her first steps in the art world were in ceramics and dance disciplines. She studied to become a Classic Dance Teacher and was part of several dance troupes within a company. Later in her life she graduated as a Graphic Designer in Universidad de Belgrano (2001, Buenos Aires, Argentina). She worked in Buenos Aires as a designer for different studios, specifically in institutional communication and branding. Later, she opened her own design and communication studio.

She studied expressive and Japanese calligraphy.
Life turns lead her to the journey of deep self-discovery. As a result of that search, she became an Anusara Yoga Teacher for which she travelled around the United States, Peru and Chile. She worked as a yoga consultant and was in charge of the management and direction of yoga and meditation seminaries with renowned yoga masters.
In the last six years, she has been designing and offering courses to develop human potential, joining together yoga tools with art and design concepts.
In the present, she is involved with art projects and visual essays as a way to explore human evolution´s nature.
2022
BAP Gallery, Art Market Budapest. Budapest, Hungary.
2021

Expressing Yourself. On-Site & Virtual Edition. BAP Gallery. Ibiza, Spain

2020
Christmas 2020, Collective Art Exhibition. BAP Gallery. Ibiza, Spain

Art Market Budapest 2020: Virtual Edition. BAP Gallery. Budapest, Hungary

The Future depends on You! BAP Gallery. Ibiza, Spain

Art in Action V: Paris. BAP Gallery. Paris, France
She creates, directs, and hosts the Podcast `Las Invisibles´, which is about women artists in history. (IGTV + from Instagram @julietalaino)
Edition of `EYES OF HEALING´ book for The Sketchbook Project at the Brooklyn Art Library, New York, USA.
Ruling Pen´ Workshop by Silvia Cordero Vega (Argentina), Domestika
Art Market Budapest 2020 - Virtual